CarePoint Health & Wellness Center
Category
Community, Healthcare, Office/Commercial, Master Planning
Location
2200 S. Monroe St., Tallahassee, FL
As Big Bend Cares expands its services within the Tallahassee community, this new 27,000 SF building provides a venue for a full range of services all under one roof. In addition to the primary care clinic services, basic laboratory testing services, dental services, mental health services, case management services, peer adherence services and a pharmacy are all provided to support the local community.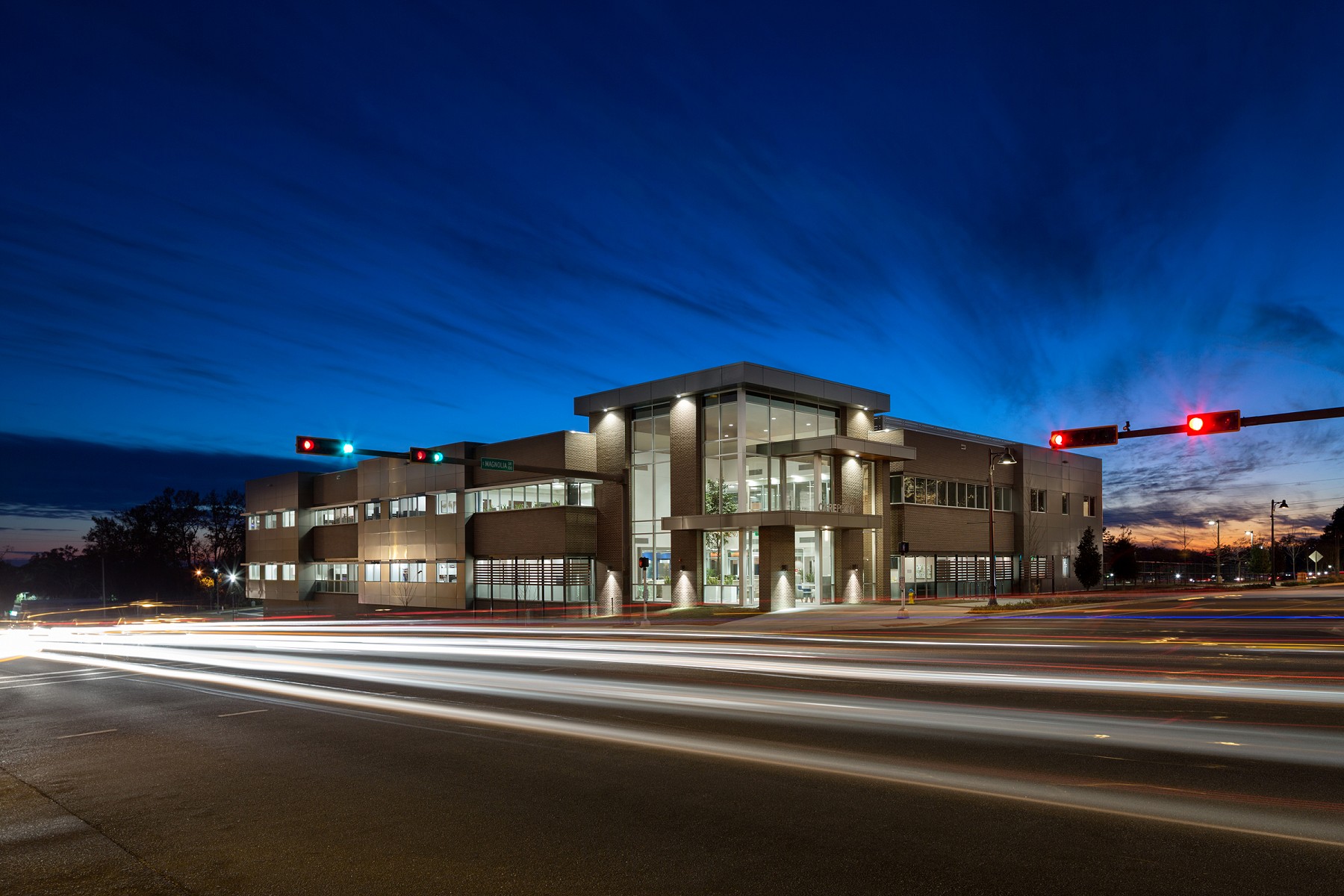 "BKJ Architecture was involved with the Care Point Health & Wellness Center from the earliest stages of property acquisition to the completion of construction. They worked hand-in-hand with a sizable group of diverse decision makers to design and construct a very complex large-scale project. They consistently demonstrated their ability to provide high-quality and responsive design services through their high-level of detail and impressive organization and communication skills. I would highly recommend BKJ Architecture for any project."
– Rob Renzi, Big Bend Cares Executive Director
The facility hosts medical services on the 1st floor while the administrative services are reserved for the 2nd floor. Careful consideration of the various programming elements within the building was critical to this successful design.
Working closely with Big Bend Cares' many board members, BKJ, Inc. ensured the creation of a welcoming and aesthetically pleasing environment with an emphasis on privacy for the clinic's users.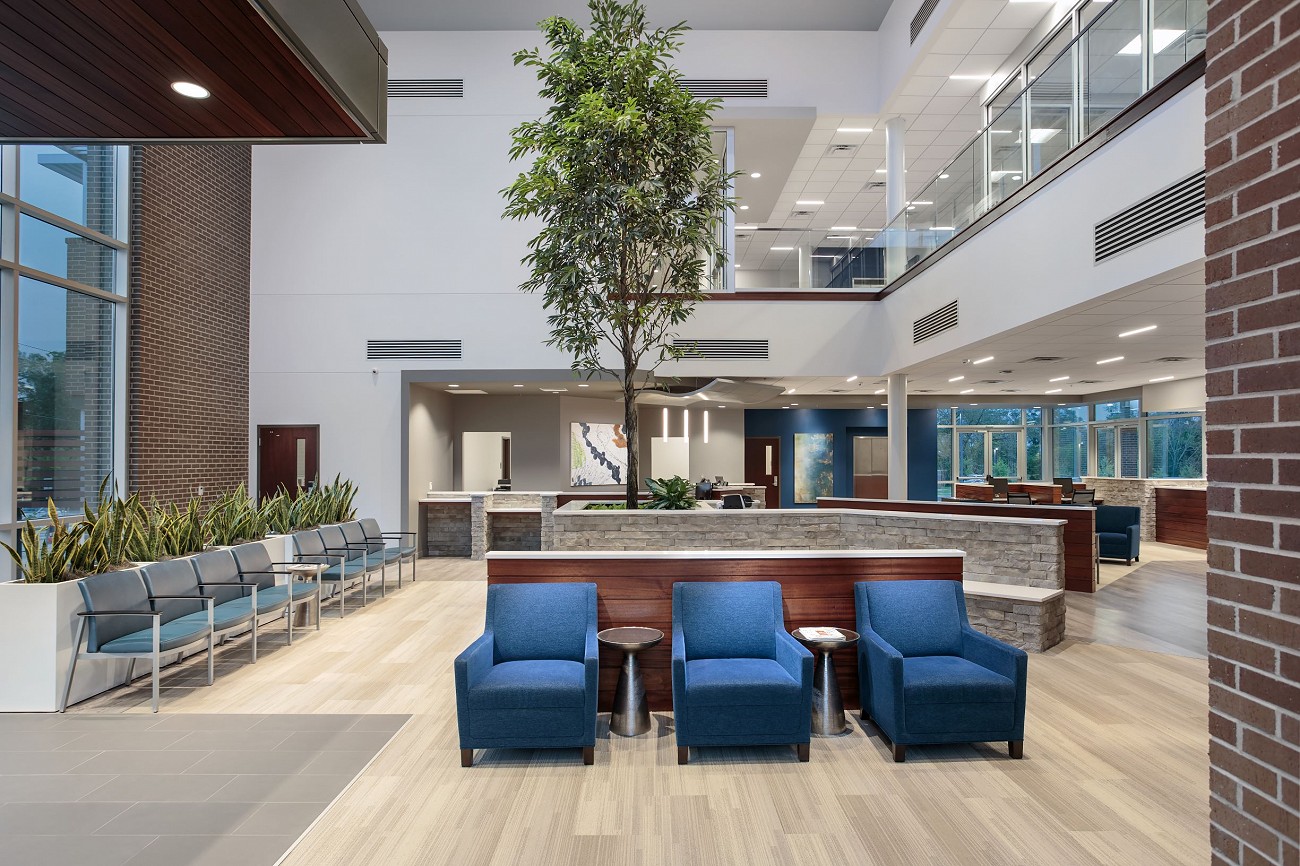 Towering ceilings are tempered with tiered roof planes that offer a human scale at the building's main entrance on the corner of South Monroe Street and Magnolia Drive.
The lobby features materials such as stone and brick, blurring the lines between interior and exterior spaces on the property. In addition, live plants and daylighting opportunities are incorporated within the project.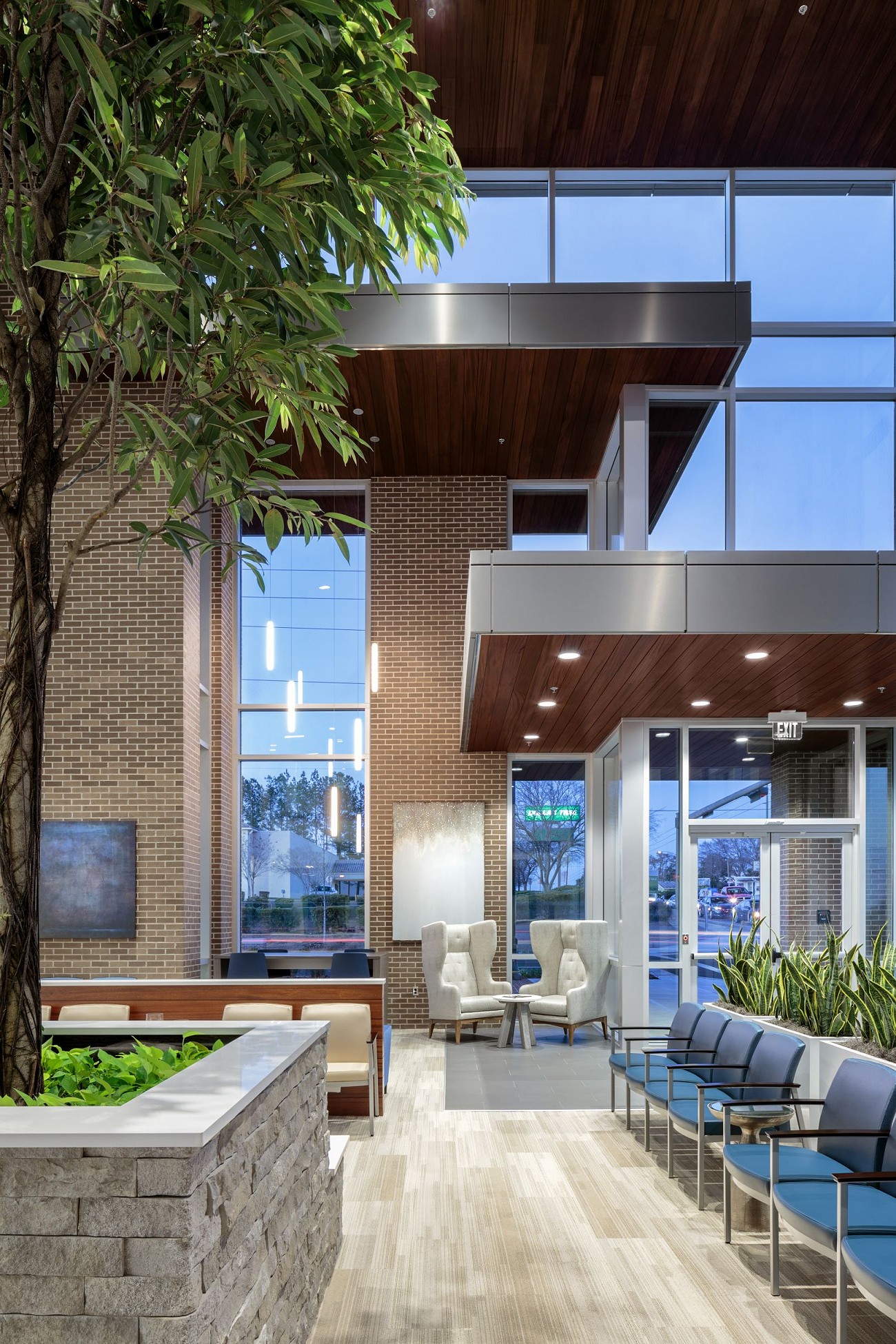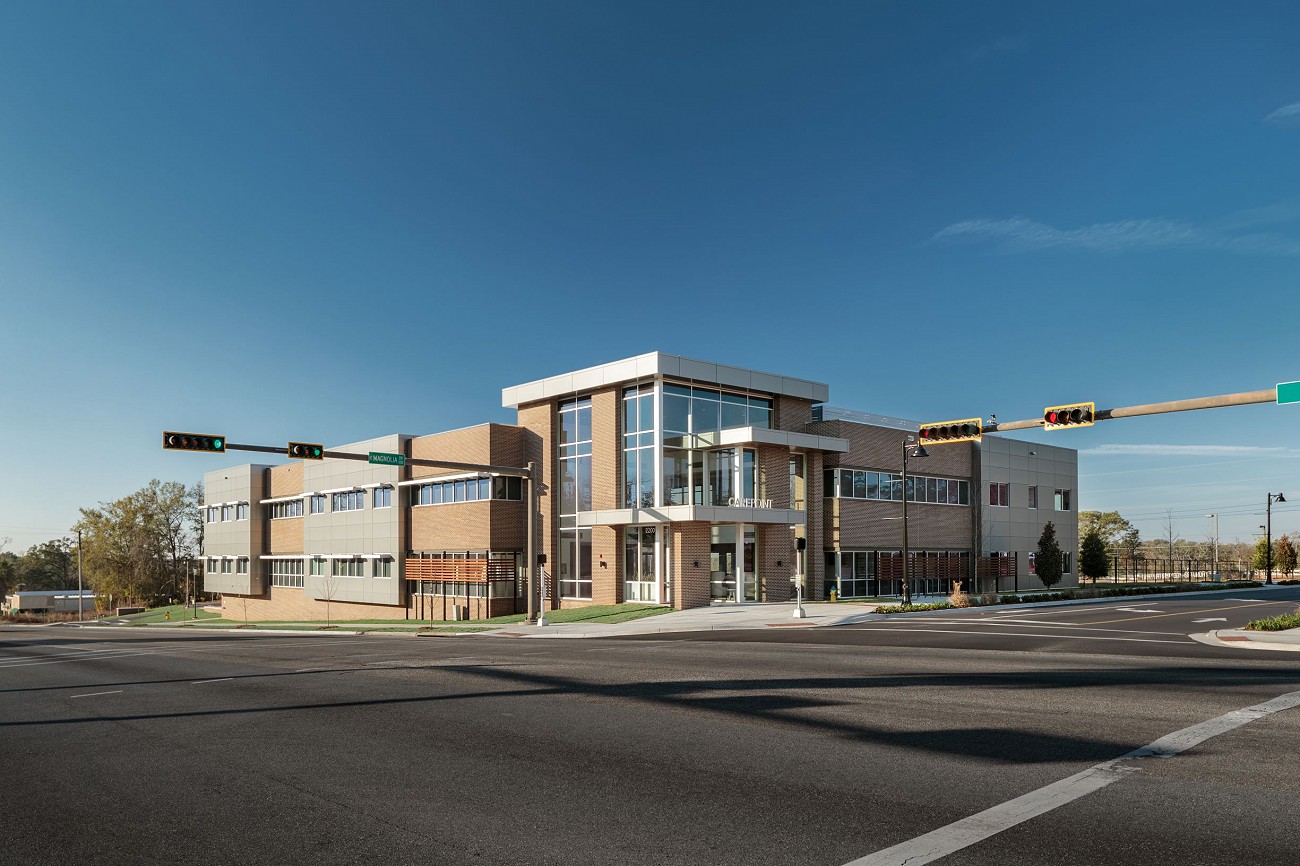 By dividing the mass of the building up into distinct volumes, the scale of the building is effectively reduced and appears to be more approachable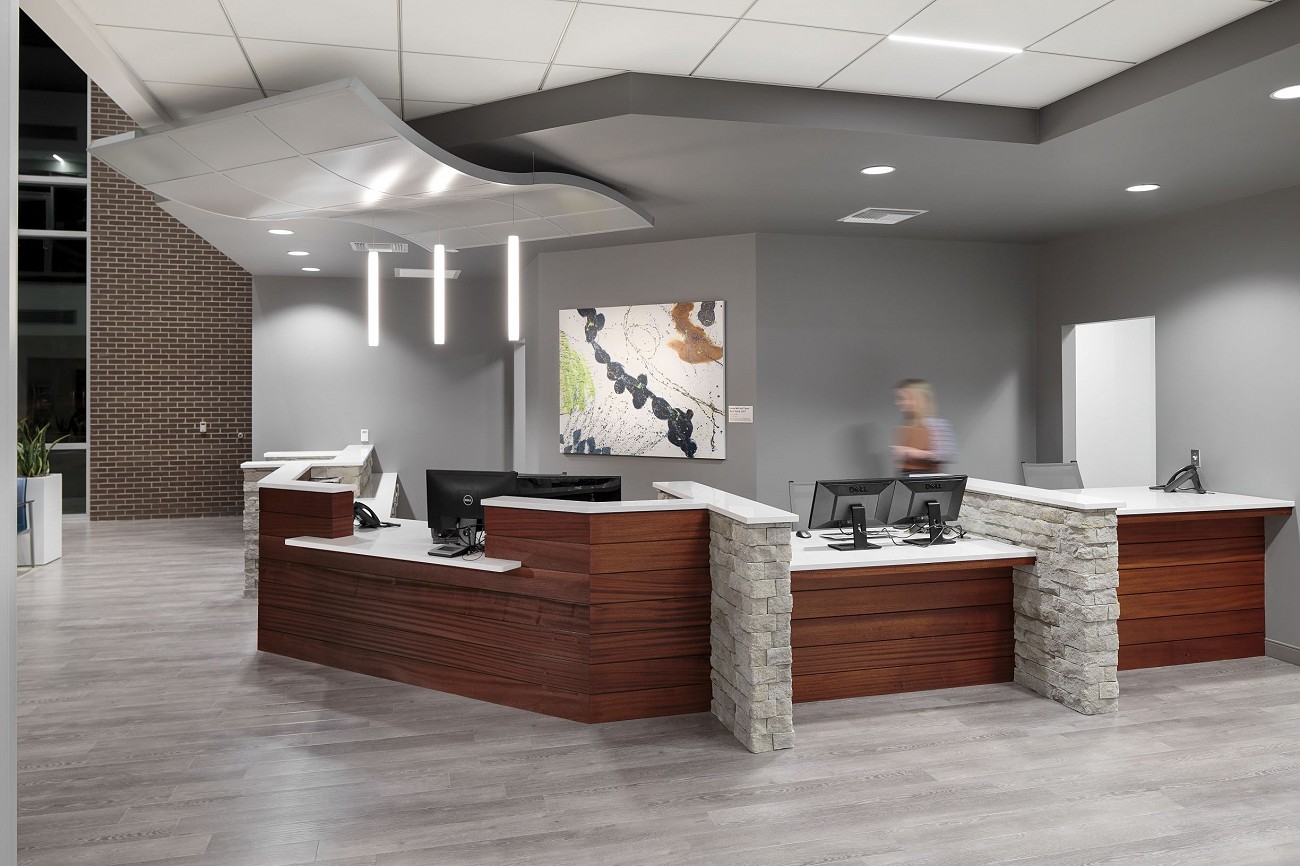 The check-in counter is delineated through architectural forms that draw patients to the receptionist desk.
In addition to designing the building BKJ was asked to masterplan the site as a whole, building in room for future growth, connections to adjacent city blocks, and enagaging pedestrian pathways along the major roads.
"This 27,000-square-foot primary care clinic will provide a venue for a full range of services through the nonprofit organization Big Bend Cares while simultaneously revitalizing an entire city block in Tallahassee. The facility will house dental, mental health, case management, peer adherence and basic laboratory testing services, along with the primary care clinic and a pharmacy. The concept of a patient-centered medical home seeks to provide comprehensive services in a single place with the goal of improving community health."
– Florida/Caribbean Architecture Magazine